Installation
&

Home Modification

Safe + Seamless with Bath+
Stay in your home by enhancing the safety and security within..
With just one store visit, you can find the right accessibility and safety equipment to meet your needs and set-up an installation appointment with our installation and home modification team at Bath+.
Bath+, a division of Bellevue Healthcare, can provide professional installation of a range of equipment including and not limited to:
Grab bars
Safety poles
Stairway lifts
Ceiling lift systems
Vehicle lifts
Walk-in bathtubs
Low and no-threshold showers
Mobility ramps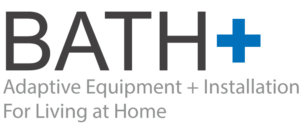 Bath+ was created after listening to the needs of our customers.  While our customers could find exactly what they needed at Bellevue Healthcare to create a safer and more accessible home, they were struggling to find trustworthy and professional help to install their new safety and accessibility equipment.  Bath+ now helps our customer's seamlessly integrate their new railings, ramps, vehicle and patient lifts, grab bars, and other equipment into their home.
Bath+ also offers home modification and bathroom remodeling.