Equipment Rentals
In many situations, renting medical equipment rather than purchasing is the best approach. 
Why rent equipment from Bellevue Healthcare?
Cost effective

Fast and convenient

Ensures continued equipment service

24/7 On-Call Support & Service
Wide selection
Types of rental equipment available:
Home Medical Equipment

Rehab and Complex Mobility Equipment

Oxygen Therapy Equipment

Sleep Therapy Equipment
Your local Bellevue Healthcare is prepared to assist you through the process and help you decide if renting or purchasing is the best option for your situation.
Find your local Bellevue Healthcare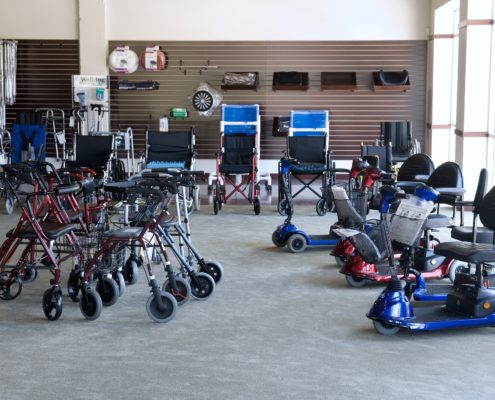 Looking for facility or hospice rental service information?
Renting Privately
Payment
Most rental equipment is billed monthly. Some preset exceptions allow for select equipment to be billed bi-weekly, weekly and daily. Rental charges are invoiced on the same schedule as the equipment rental.
Bellevue Healthcare offers a convenient and secure online Payment Portal to manage view your invoices, make payments, or update your contact or billing information.
A credit card will be required to be on file before dispensing of your rental equipment.
Prescriptions
Bellevue Healthcare is required by law to obtain a prescription or a written order from your ordering physician prior to dispensing specific equipment even when renting equipment privately.
Equipment that requires a prescription:
Oxygen Therapy Equipment (concentrators, tanks, nebulizers)*
Some Oxygen therapy supplies*
Home medical equipment such as beds, wheelchairs, ambulatory ads, and bath safety do not  typically require a prescription for private rental.  
Your local Bellevue Healthcare can help you with requirements for your equipment if it is not listed here.
Medicare Special Pricing
Special Pricing available to Medicare recipients who are renting or purchasing equipment privately.
Special pricing available for Medicare recipients who do not meet Medicare coverage criteria for equipment needed. Contact your local office for details.
Special pricing available for Medicare recipients effected by competitive bid restrictions. Contact your local office for details.
Billing Insurance for Rental Equipment
In order to bill to your insurance, our experienced team of Billing Specialists will require:
Details of your active insurance policies

Prescription, physician's orders or other appropriate documentation as required by your insurance for coverage

Contact information for your ordering physician
Our team will work hard to ensure your rental is processed accurately and efficiently; however, Bellevue Healthcare makes no guarantee coverage or payment for equipment or services provided. All charges as a result of services or equipment provided are ultimately the patient/customer's responsibility. 
Non-Covered Equipment
Not all equipment available through Bellevue Healthcare can be billed successfully to your insurance. Your insurance may impact your ability to rent or purchase equipment. Your insurance provider may already have guidelines specific to the equipment you require. In this case, the decision to rent or purchase has already been made based on your insurance plan.
Common reasons equipment cannot be billed:
Not deemed a medical necessity by your Insurance Provider

Equipment is a non-covered item

Patient does not meet the medical criteria for equipment
Copays
If equipment is successfully billed to your insurance, you can still be responsible for your copay (depending on provider).
Copays are invoiced on the same schedule as the equipment rental
Copays can be paid conveniently online payment system, by credit card over the phone, or by cash or check in person or by mail.
Travel Rentals
Bellevue Healthcare rental equipment is available for travel. If you or a family member are heading out of town or coming to visit an area serviced by Bellevue Healthcare, we have equipment we can rent to make your trip easier.
Some of the equipment we are able to rent for your travel assistance:
Wheelchairs (Powered, Standard Manual & Transport)
Portable Oxygen Concentrators & Portable Oxygen Tanks
Stationary Oxygen Therapy Setups
Delivery and setup for travel equipment:
Equipment can be delivered to a hotel prior to arrival and picked-up after your departure
Likewise equipment can be delivered to your home or picked-up at any Bellevue Healthcare location
Returning your Travel Rental Equipment
BHC rental equipment can be returned to any of our locations or picked up within our service area.  Delivery or pick-up fees may apply.
Insurance Billing and Payment
Travel rental equipment is subject to the same payment and billing terms as other rental equipment available through Bellevue Healthcare.
Our team is here to help answer any questions and guide you through the rental process, please contact us.
Delivery & Pick-Up
Rental orders over $99.00 qualify for free delivery.*  
Free delivery and pick-up is available for rental beds, patient lifts, and tilt-in-space wheelchairs in our service area. 
Delivery or pick up for is $29.00.
*Exclusions may apply.
Capped Rentals
Equipment is considered to be "Capped" when the total rental charges reach the purchase price of a new piece of equipment. Once a piece of equipment is Capped either Bellevue Healthcare or your Insurance Provider will contact you with details regarding your account and equipment.
Capped equipment transfers ownership from the provider (Bellevue Healthcare) to the patient/beneficiary or private renter of equipment.
Once capped you are the sole owner of your equipment. It is no longer considered rental equipment.
Please contact your insurance provider as well as our billing department for details regarding capped equipment schedules and benefits specific to your insurance.
Maintenance
We perform routine maintenance on all of our rental equipment. All of our rental equipment goes through a meticulous disinfecting, cleaning, and testing process by our trained technicians every time it is returned. You can be confident that you will receive clean, safe, and ready-to-use equipment.
Service & Repairs
For as long as you are renting a piece of equipment we will provide appropriate service to keep the equipment functional and safe to use.
Renters are responsible for damage inflicted on rental equipment that results from negligence or unintended user of the equipment.  In such cases Bellevue Healthcare will provide the appropriate service required within a reasonable time frame to service or repair the equipment. The renter will be changed for any applicable costs.
Please contact  your local Bellevue Healthcare to discuss your equipment concerns or schedule servicing.
Returning Equipment
Please return your rental equipment to your local Bellevue Healthcare office as appropriate.
If your rental equipment requires a Bellevue Healthcare Technician to disassemble or pick-up, such as a bed or patient lift, please contact your local Bellevue Healthcare to schedule a pick-up. Bellevue Healthcare can also pick-up smaller rental items , however,  a pick-up fee may apply.
Dirty Equipment
Equipment that is returned in excessively dirty condition can be subject to a cleaning fee. Please take time to clean your rental equipment before returning it.
Rental terms on our website are introductory and are subject to change without notice.
Your individual rental terms and conditions may differ.
Please refer to your rental agreement paperwork for the terms and conditions that apply to your specific rental situation.  If you have lost or misplaced your original paperwork, please contact us.
Have additional questions?
Our team can assist in answering your rental or billing questions. Please contact us.
Bellevue Healthcare is the Pacific Northwest's Truly Local full service durable medical equipment provider offering retail, complex rehab, respiratory services, and facility solutions across Washington, Oregon, and Idaho. Locally owned and operated since 2000, Bellevue Healthcare remains committed to delivering superior selection and service.
---

Joint Commission Accredited
Since 2002>